The menu changes every day according to the fish caught locally.
Starters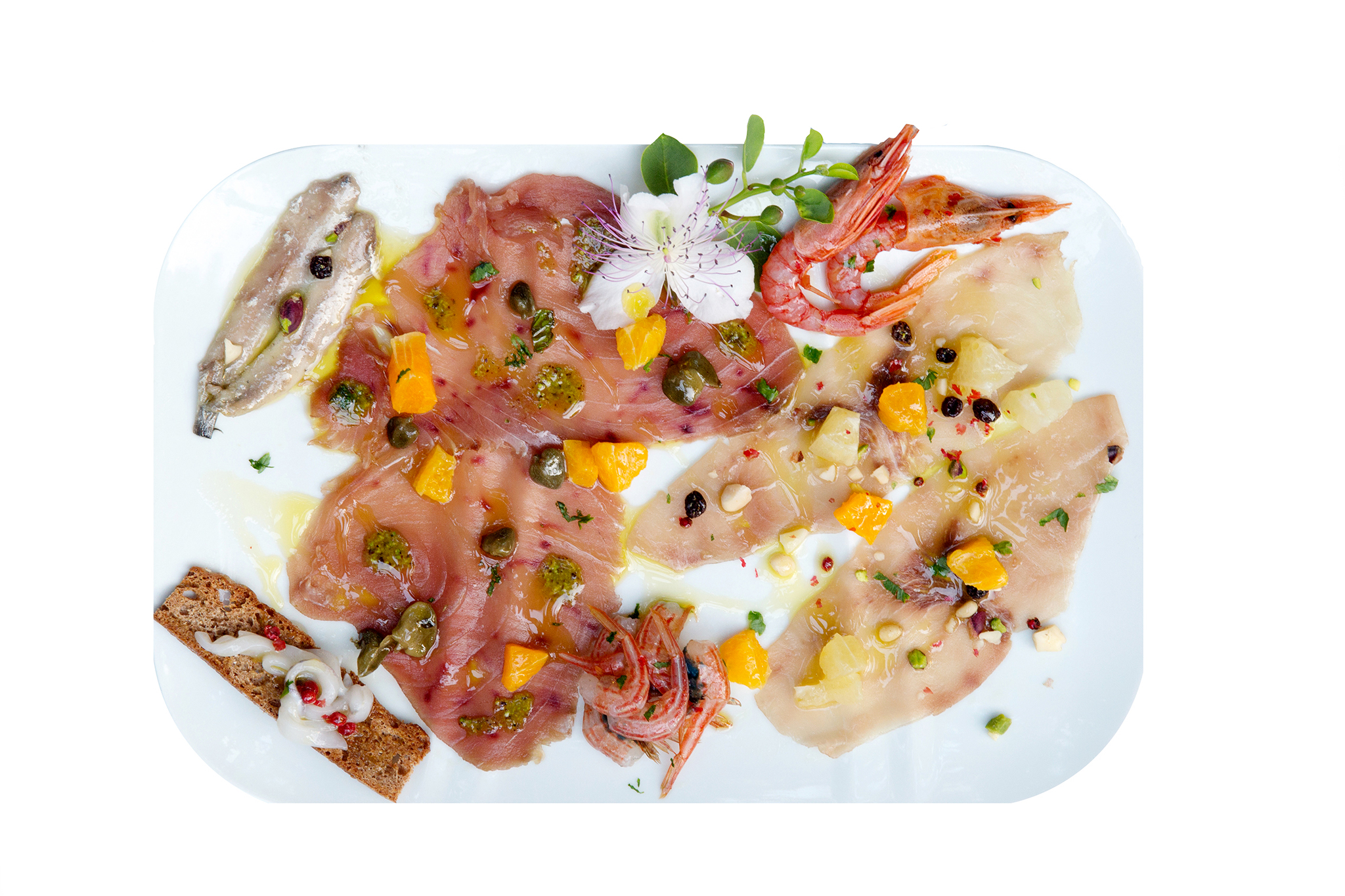 (Pistacchio pesto sauce, oranges and capers)
GYPSY" TUNA FISHBALSS
€15
(sweet and sour tomato sauce, pepper, and herbs)
Crunchy Octopus With Guacamole And Tomato Salad Sauce
€18
(Octopus, fruit, onion, tomato, oil, semolina)
Tasting Pie Served With A Glass Of Capofaro Malvasia Wine
€16
(Aubergines, breadcrumbs, fresh herbs, Goat's cheese from Vulcano, capers, tuna, aubergine sauce, cooked must, malvasia wine)
Albacore Tartar And Prauns
€18
(Albacore prawns, sesame and currant, cucunci extra virgin olive oil)
Stuffed Beccafico Anchovy
€16
(Served with caramelized red onion)
Chef's Raw Fish Marinade
€25
(Fish, shellfish and prawns) (fished on the day)
(Oil preserved vegetables,capers, goat's cheese and eggplant caponata)
First courses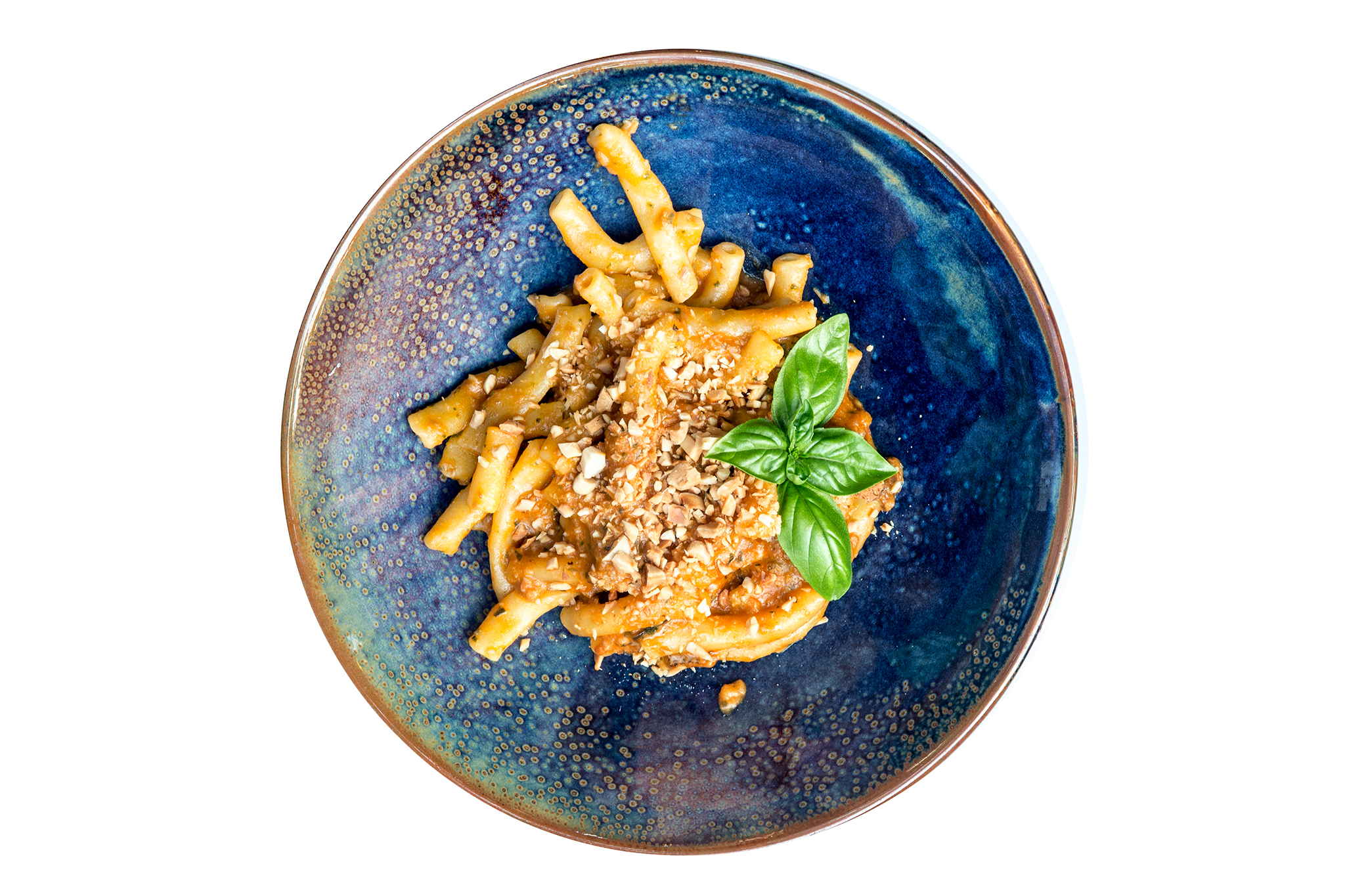 (Fried eggplant,basil pesto sauce, almonds, tomato and oven-baked ricotta cheese )
Toasted Fregola With Shellfish And Lime
€17
(Dry pasta, seafood, prawns, lime, extra virgin olive oil, salt, garlic, parsley, cherry tomato, strimps)
(Spice flavored Tumminia couscous,seafood,fish and shellfish
"TUNA,HONEY AND FISH ROE" SPAGHETTI
€24
Courgettes, cheek lard, prawn bisque
(Potatoes,smoked scamorza cheese, lemon,mussels and shellfish cream)
(Seafood, tomato, basil, garlic, white wine, onion, fish stock)
Fish Mains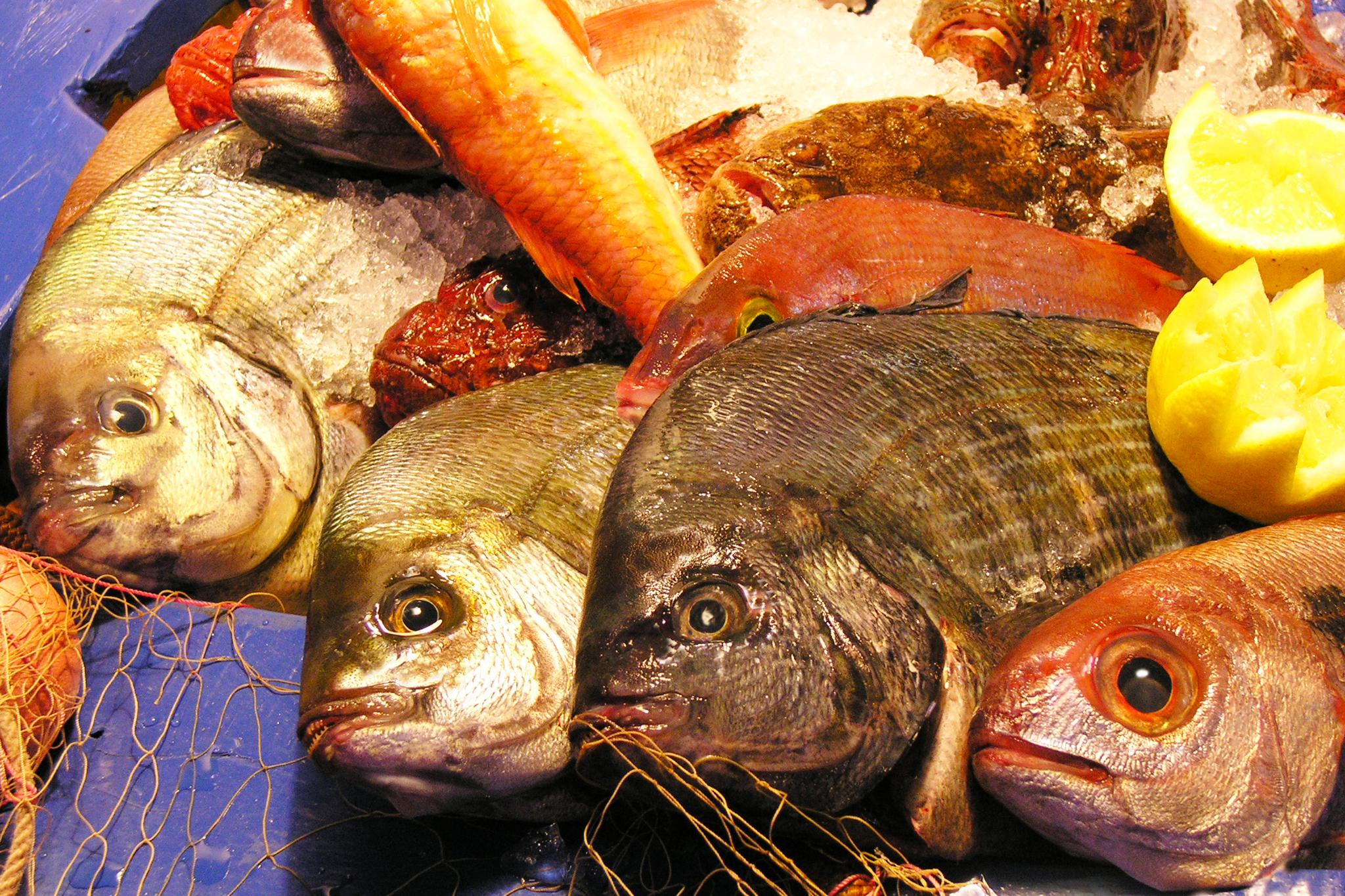 (Capers, goat's cheese from Vulcano, home-made bread and salmoriglio sauce)
(Melted eggplant, herbs and Escabeche sauce)
(Home-made bread, herbs, olive oil and lemon)
Fish Of The Day
€7 hectogram
Squid and Fresh Shrimps
€24
(Served with Agro sauce,sweet and spicy)
Swordfish "sweet" en croute
€18
(Home-made bread,pine kernels,raisins, potato,almonds, orange and tomato)
"COUNTRY" STYLE STUFFED SQUID
€20
(Home-made bread, caciocavallo cheese, capers and basil)
"GHIOTTA AEOLIAN STYLE AMBERJACK
€18
(Capers, olives, tomato and potatoes)
AEOLIAN-SCENTED FILLET FISH OF THE DAY ON NUBIA SALT CRYSTALS
€18
(Fish,herbs,citrus,fruit,spices,wine
Our Meat Mains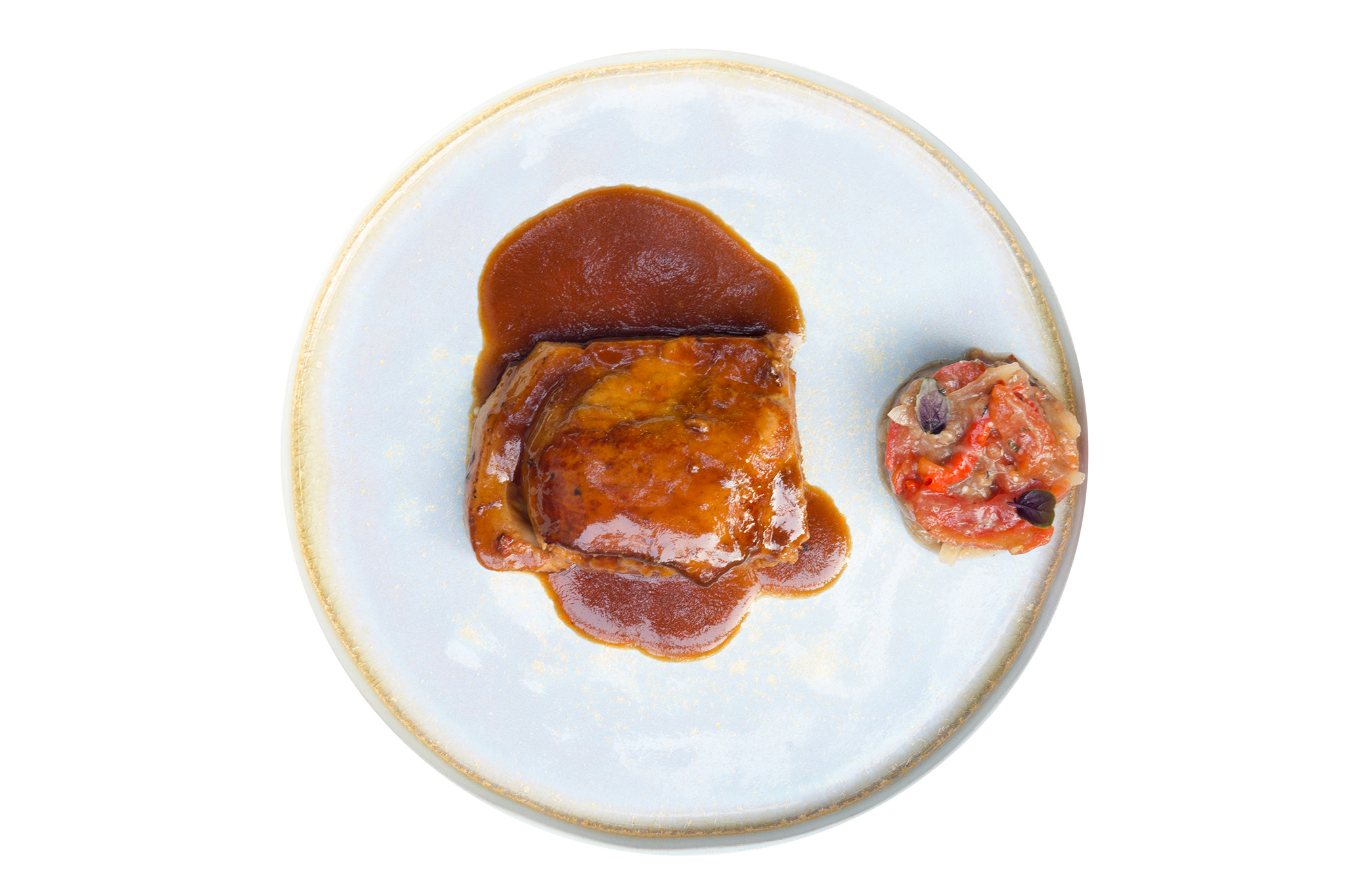 (Served with crunchy sautè vegetables and carob sauce)
(Cinnamon, red wine and potatoes)
(Served with grilled vegetables and salmoriglio sauce)
Fillet With Green Pepper
€26
(Beef fillet, mustard cream,green pepper, demi-glace.
SLIDE DISHES
EGGPLANT " PARMIGIANA "
€9
(Eggplant, tomato,basil and caciocavallo cheese)
AEOLIAN STYLE EGGPLANT " CAPONATA"
€8
Eggplant,tomato, cappers,olives Onions
Fennel ,Orange and Onion Salad
€9
Baby Tomatoes Ans Caper Salad
€7
OUR "EOLIAN PANZANELLA
€10
(Tomatoes, capers berries,olives,red onion,stale bread, cucumber and basil)
IF YOU WISH TO TASTE AN UNUSUAL CHEESE WE SUGGEST YOU CONSULT OUR CHEESE LIST
Bread and service € 3,50
Please note: it may seem like the healthiest, cheapest and safest option but in this restaurant we do not serve salad.
"E PULERA" TASTING MENU ( 80 euros drinks not included)
Albacore Tartar And Prawns
(Albacore prawns, sesame and currant,cucunci extra virgin olive oil)
Stuffed Beccafico Anchovy
(Served with caramelized onion)
SPAGHETTI PASTA WITH TUNA, CITRUS FRUIT, MANDARIN HONEY, TUNA ROE
Fresh egg pasta, tuna, mandarin flavoured honey, oil tuna roe, garlic, salt, pepper, wine)
"25 YOLK" TORTELLO
(Potato,smoked scamorza cheese, lemon,mussels and shelfish cream
Sliced Tuna
(Melted eggplant and Escabeche sauce)
Suckling Pig
(Served with crucchy sautè vegetables and carob sauce)
For Dessert
White Chocolate
Crumble with extra virgin olive oil,candied caper and lemon
Final Treat
"HISTORIC DISHES" TASTING MENU ( 55 euros drinks not included )
"GYPSY" TUNA FISHBALLS
(Sweet and sour tomato sauce,pepper and herbs)
Crunchy Octopus With Guacamole And Tomato Salad Sauce
(Octopus, fruit,onion,tomato, oil,semolina)
"E PULERA MACCHERONI
(Fried eggplant,basil pesto sauce, almonds,tomato and oven-baked ricotta cheese)
"COUNTRY" STYLE STUFFED SQUID
(Home-made bread, caciocavallo cheese, capers and basil)
For Dessert
Our Cannoli
(Fresh ricotta cheese,pistachio, almond,cinnamon and creamed 72% dark chocolate
Final Treats