DESSERTS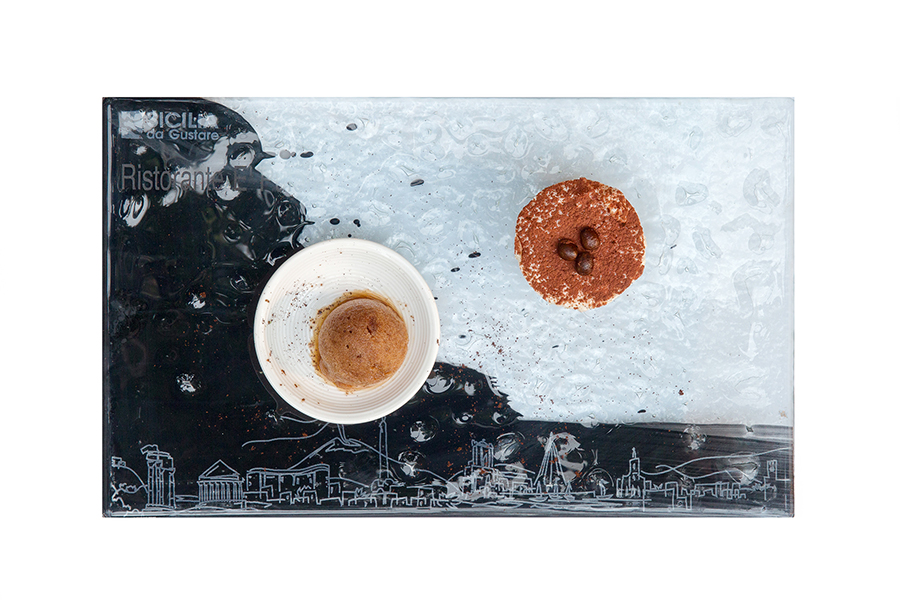 Sicilian Cannolo with dark Brazilian chocolate
€6
Plain flour, sheep's milk ricotta cheese, wine, cocoa, salt, ricotta cheese, cinnamon, almond, pistachio, egg white, butter
Sicilian cassata and chocolate sorbet
€6
Grapes, plain flour, sheep's milk or cow's milk ricotta cheese, chocolate chips, ground almonds, candied fruit
Oranges, sheep's milk or cow's milk ricotta cheese, chocolate, cinnamon, sugar, plain flour, margarine, eggs, wine
Eggs, cream, sugar, almond, glucose, alcohol, pistachio sauce, plain flour
Eggs, cream, sugar, pistachio sauce, glucose, alcohol, plain flour
Sugar, dextrose, glucose, lemon, gelling agent, thickening agent, water
Milk, sugar, chocolate nut paste, almond, chocolate, cocoa, candied fruit
Traditional Aeolian cakes
€6
Nacatuli, cassatieddi, gigi, biscuits
Eggs, plain flour, wine, cooked grape must, dried fruit, lemon, cinnamon, cardamon, vanilla
Plain flour, wine, sugar, almonds, cinnamon, vanilla, mandarin juice
Plain flour, cooked grape must, cardamom, cloves, vanilla, almonds, citrus juice, cinnamon
Mascarpone, coffee, malvasia, sugar, stabilizer, eggs, gelatine
Apples, phyllo pastry, custard, raisins, cream-flavored ice cream, lemon, sugar.
Sicilian cheeses
Ibleo hills d.o.p.
Oven-baked ricotta cheese
€5
Sicilian cow's milk - goat's milk - sheep's milk
Ubriaco al nero d'avola
€5
Cow's milk - Nebrodi national park
Cow's milk - Iblean hills
Sicilian interior regions - Sicanian hills - cow's milk
Sicanian hills - cow's milk
Santa Lucia del Mela slow food presidium - Novara di Sicilia - sheep's milk 60% goat's milk 40%
Enna - Aidone - Assoro - Barrafranca - Calascibetta - Sicilian indigenous sheep
Castellumberto - sheep's milk
Santa Margherita del Belice Slow food Presidium - stretch curd sheep milk cheese
Nebrodi black pig "fellata" salami
€6
Herbal Teas
A fresh herbal tea, evocative of the scents and flavours of this sunny land with elderflower berries, orange rind and leaves, mandarin, rosehip, prickly pear flowers.
Redcurrant - Blueberry - Pomergranate
€3,50
Redcurrants, blueberries, pomegranate
Ginder, lemongrass and pink pepper
€3,50
A simple flavour and the natural scent of leaves and flowers for relaxation
Apple, cinnamon, vanilla and mandarin
€3,50
Orange, cinnamon and apple
Malvasia DOC wines from the Aeolian Islands
Cantine Castellaro Lipari
Gaetano Marchetta Salina
Virgona Salina
Salvatote D'Amico Salina
Passito Fenech Salina
Passito Caravaglio Salina
Hauner
Passito Hauner Salina
La Rosa Salina
Tasca D'Almerita Salina
Sicilian Passito Wines
Alessandro Camporeale 2008 Syrah
CVA 2014 Passito Nero D'avola
Passito Zibibbo Pantelleria
Passito Zibibbo Pantelleria
Noto Muscat Wine
Passito Winery Milazzo Campobello di Sicilia
Pantelleria Muscat wine Salvatore Murana
Muscat wine
Zibibbo muscat wine Ottoventi
Planeta muscat wine
Syracuse muscat wine Pupillo
Rhums
10 Y very special Barbado
Sea wynde 1996
Venezuela 12 years old 2009
El Dorado Finest Demerara
€10
Guyana
Pampero Anniversario Reserva Esclusiva
€9
Venezuela
Plantation Old Reserve 2000
€10
Barbados
Martinique ambre'
El Dorado Finest Demerara
€10
Gujana
Ron Millionario Especial XO
€9
Guadalupe
Ron Zacapa Gran Reserva Soleras
€16
Peru'
Ron Zacapa Gran Reserva Soleras
€13
Guetemala
Ron Zacapa XO Gran Reserva Especial
€18
Guatemala
Havana
Liqueurs
ANISETTE MARIE BLIZZARD
€5
LIQUIRIZIA LA SPINA SANTA
€5
OLD ARRACK LIQUORE DI COCCO STRI LANKA
€5
Brandies
VECCHIA ROMAGNA BLACK LABEL
€5
Whiskies
CHIVAS 12 YEARS REGAL BLENDED SCOTCH
€7
DALUVHINNIE 15 YEARS SCOTCH
€8
FORESTER KENTUCKY STRAIT BOURBON
€8
GLEN DEVERON 5 YEARS SCOTCH SINGLKE MALT
€5
GLENFIDDICH PULE MALT SCOTCH
€7
GLEN LIVET 12 YEARS SINGLE MALT SCOTCH
€6
GLENMORANGIE 10 YEARS SINGLE MALT SCOTCH
€7
GLEN GRANT 10 YEARS SCOTCH OF SCOTLAND
€6
GLENKINKIE 10 YEARS SINGLE MALT SCOTCH
€7
GRANT'S WILLIAM SCHOTCH
€7
JIM BEAM KENTUCKY STRAIGHT BOURBON
€6
JOHNNIE WALKER BLACK LABEL SCOTCH
€5
JONNIE WALKER RED LABEL SCHOTCH
€5
LAGAVULIN 16 YEARS SINGLE MALT SCHOTCH
€7
MACCALLAN FINE OAK 12 YEARS SCOTCH
€12
NIKKA SINGLE MALT YOCHI
€8
SEA GRAMS CANADIAN WISSKY
€6
TALISKER 10 YEARS SINGLE MALT SCOTCH
€7
THE BALYINIE 10 YEARS MALT SCOTCH
€7
THE GLENLIVET 12 YEARS SINGLE MALT SCOTCH
€7
THE TORMORE GLENLIVET 5 YEARS
€6
Grappa and Fruit Schnapps
Giovi
Nonino
Livon
Vigna Dogarina
Giovi
Giovi
Alexsander
Primo Assaggio Schnapps
€4
Bottega
Giovi
Zwetschgenwasser
White Fragolino Schnapps
€5
Bertagnolio
Amarone & Recioto Grappa
€5
Bertagnoli
Barricata Barolo Grappa
€4
Bosso
Barricata Barolo Grappa
€7
Gaya
Donna Fugata
Spergola di Scandiano Grappa
€5
f.lli Brunello
Brunello di Montalcino Grappa
€5
Bertagnoli
Bertagnoli
Bertagnoli
Giovi
Alexsander
Giovi
Giovi
Alexsander
Villagrande
Rau
Nonino
Albergian
Filippino
Occhipinti
Az. Agricola Milazzo
Poli
Fenech
D'Amico
Virgona
Giona
Hauner
Marchetta
March de Champagne Grappa
€6
Moet & Champagne
Rau
Mille e una Notte Grappa
€7
Donna Fugata
F.lli Brunello
Pantelleria Muscat Wine Grappa
€5
Giovi
Nardini alla Ruta Grappa
€4
Nardini
Az. Agricola Milazzo
Cusumano
Gio' Buton
Maschio
Prosecco and Red Radicchio Grappa
€4
Negroni
Nonino
Ceschia
Negroni
Jacopo Poli
Frattina
Stravecchia Barricata Grappa
€5
Caffo
Nardini
Val De Brun
Nonino
Poli
ALEXSANDER
Brunello